Recent Posts
Welcome to Beach Buggy .Info - The UK's Online Beach Buggy Community.
Recent Posts
1
« Last Post by snoopy on Today at 07:46:22 AM »
Welcome to the site and world of buggies..
2
« Last Post by BugDream on Today at 07:25:34 AM »
Thanks for letting me know Flags.

Flywheel/clutch sold
Steering column sold

Don't forget I can take these to Volksworld Spares on Sunday, after that I'll probably be putting things on eBay.

Cheers, Sam
3
« Last Post by Oojamaflip on Today at 06:29:50 AM »
Yeah welcome dipsy deb
4
« Last Post by Chad on January 21, 2019, 11:51:04 PM »
Definitely a Rat Mk2 with cut off front wings.
And welcome too
5
« Last Post by Dave DND on January 21, 2019, 10:43:21 PM »
Welcome aboard - looking forward to hearing more about it
6
« Last Post by pepsi81 on January 21, 2019, 09:41:26 PM »
Welcome Deb,
You'll enjoy the site, loads of helpful folk. Looking forward to pics soon
Paul
7
« Last Post by Dipsy Deb on January 21, 2019, 09:36:27 PM »
Hi
Just a quick hello, recently bought a LWB buggy believe it's a FF Rat. Not on the road yet but hopefully soon, when running correctly then can start making everything else look better. Might take a few years
.
8
« Last Post by Jerrybug on January 21, 2019, 08:40:28 PM »
A set of four slot mag wheels
4x130 bolt pattern 6x15
One has been polished the others painted.

£200
9
« Last Post by HughBug on January 21, 2019, 07:14:01 PM »
My dual cannons are up for sale on eBay for £150, but if you're interested I can do them for members for £120 + £12 shipping by ParcelForce 48.
eBay link -
https://www.ebay.co.uk/itm/372574069290?ssPageName=STRK:MESELX:IT&_trksid=p3984.m1555.l2649
Details -
For sale here, dual cannon exhausts in stainless steel, recently removed from my beach buggy.
My buggy has a VW T1 1600cc engine from a 1970 Beetle, but it will fit any air cooled VW engine from 1200 - 1600cc and with no heating system.
Also designed to fit twin carb models - I am not sure if they fit single carb so please research before buying.
These are Very Loud and appear to be unbaffled - see photo no. 6 looking down into the exhaust.
They give an incredible sound and even at idle they have a lovely burble.
These superb pipes are in Very Good Condition, undamaged and with no scratches. The end pipes polish up beautifully, and the ones closer to the manifold have blued up nicely.
There are no gaskets or nuts included in the sale.
Photos -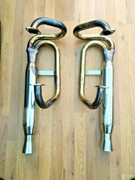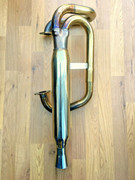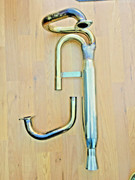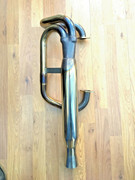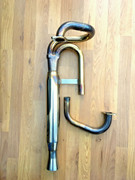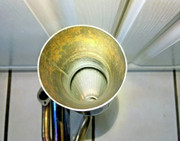 Cheers
Hugh the 2nd
10
« Last Post by Dave DND on January 21, 2019, 10:58:55 AM »
We could go as EU flags made from bin liners?

May well be UK flags the way its currently going