Show Posts - Big GP
Welcome to Beach Buggy .Info - The UK's Online Beach Buggy Community.
Show Posts
You can view here all posts made by this member. Note that you can only see posts made in areas to which you currently have access.
Topics - Big GP
31
« on: September 02, 2014, 08:26:19 AM »
I want to install speakers in my dashboard but want a bit of bass too what's the maximum size I can fit on a late style sidewinder dashboard
Want them
At either end.... What to fit 6x9 speakers
32
« on: August 29, 2014, 07:53:26 PM »
Swing axle gearbox brace £20

Beetle wiper motor (tested and working) £25

LED running lights brand new £10

Wilwood brake bias valve new £45

Momo steering wheel no boss £30

Grant 4 spoke deep dish wheel £35

White wing beading £8
33
« on: April 18, 2014, 01:18:22 PM »
I have a standard generator 12v set up with external regulator.

It appears the car is not charging

I checked battery voltage and it's around 12.5v when not running but stays similar when it is running.

I then repolarize the generator by removing wiring and fan belt and linking D+ to pos on battery and DF to neg on battery. The dynamo spins, I allow it to spin for around 3-5 seconds. Then I replace wiring and belt and try again, I still get the same voltages.

I then push the brushes towards the rotor but voltages remain the same

Is my generator knackered? Or am I missing a trick?
34
« on: January 15, 2014, 10:43:38 PM »
I have a fridge 3 way in reasonable condition, was going to be installed in my van but changed plans.

240v tested and ok, 12v keeps it cool but doesn't actively cool things. Gas unchecked

Offers but want around £50
35
« on: August 08, 2013, 02:08:08 PM »
Ok, might not be your cup of tea but here goes.
95% completed project.
Lots of trick pieces, Jamar pedal box, 1600 Gear box, Autometer gauges, Spun alloy tank, Polished Wolfrace whees, new tyres, all wired, chequer plate floor (aluminium), Steering rack not box, discs all round, scat shifter, ball joint front IRS rear, tax exempt. No engine
Offers invited over £2500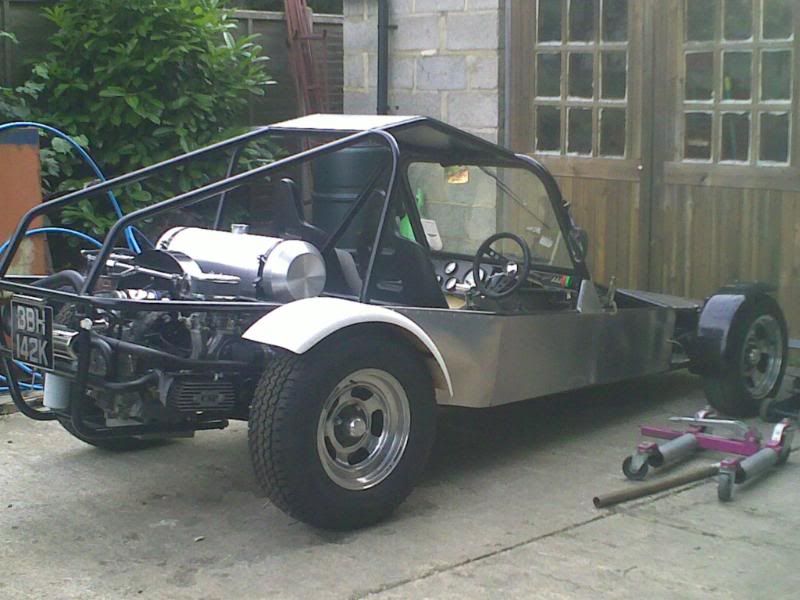 36
« on: August 08, 2013, 01:39:31 PM »
6ft fibreglass whip aerial in black or white with fm connector.
As seen on my buggy
£15 each plus post or collect from Basildon
Postage is £9 due to awkward size
37
« on: August 05, 2013, 06:49:04 PM »
Hi all
I'm having a good old clear out as I doubt ill build another buggy for some time now.

I have a steering column two stalk ££35
Ballhoint beam complete needs a few minor repairs nothing major £75
1300 gearbox no shafts £25
Sprintstar wheels 4 stud 7 inch wide rears 5.5 fronts rears
Rears have average tyres fitted £300 set all original lemmartz wheels
Buggy headlight shells for 5.75 lamps in chrome £40
Seat runners brand new £20 pair
Seat wedges £20 for 2 seats

Lots more to be listed soon

Buggy whip aerials steering parts steering wheels
Pedals brake drums car stereos amps cb radios fridge

Also complete sandrail if anyone wants to make a decent offer
Everything is for sale
38
« on: July 18, 2013, 03:48:10 PM »
Any news any plans who is going when where who?
39
« on: April 19, 2013, 09:16:13 PM »
I'm after a cheap runabout. Must be reliable and mid sized so focus or golf would be perfect. What have you got.
40
« on: February 21, 2013, 02:20:36 PM »
To everyone who has been involved in building and setting up this forum.

Big Pat on the back.